When it comes to cleaning routines, toothbrushes come in the first line. This dental device works to clean all the areas of your teeth just so you could enjoy an oral health that's free of dental plaques and bad bacteria. As we all know, most dental problems stem from dental plaques and bad bacteria. If you cut the root cause of these dilemmas, you can ensure healthful teeth and body.
There are different types of toothbrushes available across the world. One of the most promising toothbrush brands is Sonicare.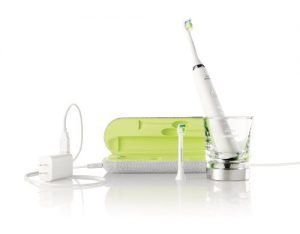 Sonicare toothbrush promotes a thorough and impressive dental cleaning. It helps remove dental plaques and fights dental tartar build-up that can induce a number of dental issues, like cavities. Through its high-end sonic capacity, Sonicare can improve the usual teeth cleaning routine of a person even at home. Aside from eliminating local irritants, the device can reach to areas that a normal toothbrush can't. Sonicare involves soft bristles that can take down plaques along your gum line. No wonder dental professionals considered this brand as the most suitable and ideal electric toothbrush for individuals with sensitive gums and teeth.
Unlike the traditional toothbrush, Sonicare seemed to remove more dental plaques and food debris. It doesn't care only on teeth, but on your gum health, too. This is why dental professionals considered this as the most trusted type of toothbrush in terms of eliminating the potential risks of gingivitis and other forms of periodontal disorder. Stains also have no place to Sonicare. Sonicare electric toothbrush can whiten your whiten up to 2.5 shades and can remove surface stains within two weeks! All the more, these benefits helped Sonicare reached the highest brand of toothbrushes. The brand is what most dentists recommend to dental patients of all ages! The dynamic cleaning action and high speed movement of Sonicare are only few things you can relish from Philips Sonicare toothbrushes.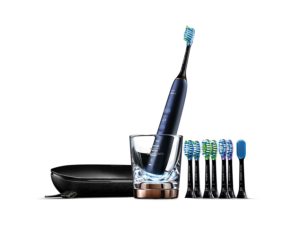 Through the aid of patented sonic technology, Sonicare offers you different models of toothbrushes, such as:
FlexCare is the smaller and lighter model version of Sonicare toothbrush. Its highly sophisticated brush head can eliminate dental plaques including on areas that a normal toothbrush can't reach. Unlike other models of Sonicare, FlexCare only produces 80% of vibration. The purpose is to promote comfortable brushing to consumers. This is why it comes with its own sanitizer, too. There are three modes of brushing of FlexCare: clean, massage and sensitive.
HealthyWhite is for people who consider teeth whitening. It has 30 seconds of whitening power feature that can improve your teeth's shade by eliminating surface stains or discoloration.
UV Sanitizer fits for individuals who like to eliminate germs and viruses 99 percent. Its main objective is to strengthen teeth thru eradicating the things that prevent it from becoming strong and healthy teeth. People who opt for this model can pair it with Oral- and Sonicare toothbrushes.
Sonicare is the leading brand for toothbrushes. For clienteles who find it hard to cope with their brushing routine can make the most of this brand type. Tooth brushing is one of the basic dental care regimens today. Visit your nearest 24 hour dentist Chicago.